https://www.cartoonbrew.com/awards/bunuel-in-the-labyrinth-of-the-turtles-wins-european-film-award-183477.html
A Spanish-Dutch co-production, Buñuel is rooted in the true-life story of film director Luis Buñuel's expedition to the poverty-stricken Las Hurdes region of Spain in the early 1930s. The filmmaker intended to depict the region's poor living conditions, albeit through the lens of surrealism, the movement in which he'd made his name. In the event, he and his team staged some of their footage, with a view to exaggerating stereotypes about the locals.
Buñuel in the Labyrinth of the Turtles is animated in a 2d style partly inspired by Fermín Solís's graphic novel of the same name, on which it is based. The narrative is interspersed with live-action clips from the original documentary. Animation was mainly handled by The Glow Animation Studio, which is based not far from Las Hurdes; the studio was founded by Simó and the film's producers, Manuel Cristobal and José María Fernández de Vega. Other companies involved in the production are Sygnatia, Submarine, and Hampa. The film is distributed by GKIDS in the United States.
European Film Awards
✔@EuroFilmAwards
«For us this was a beautiful story to tell, and this film was a wonderful gift to all of us» Salvador Simó, director of BUÑUEL IN THE LABYRINTH OF THE TURTLES, European Animated Feature Film 2019. #efa2019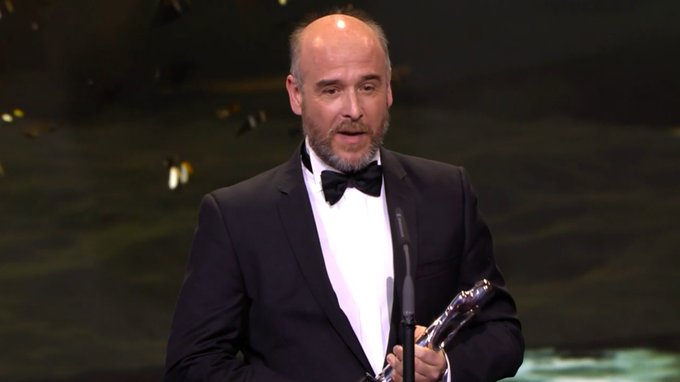 After premiering last October at GKIDS's Animation Is Film Festival in L.A., where it won a special jury prize, Buñuel in the Labyrinth of the Turtles embarked on a distinguished festival run. It picked up an award for its score at Annecy, and was nominated for best feature at both the Quirinos and the Emiles.
The European Film Awards win caps a strong week for Buñuel, during which was also nominated for an Annie Award for best indie feature. The film is one of 32 qualification-submitted animated features for this year's Academy Awards, and owns an extremely rare 100% positive critics' rating on Rotten Tomatoes, even after dozens of reviews.
The other animated features nominated for the European Film Award were:
I Lost My Body — Directed by Jérémy Clapin (France)
Marona's Fantastic Tale — Directed by Anca Damian (France/Romania/Belgium)
The Swallows of Kabul — Directed by Zabou Breitman and Éléa Gobbé-Mévellec (France/Luxembourg/Switzerland)
The EFA winner is voted on by the European Film Academy, which has over 3,600 members. Recent winners in the category include Another Day of Life (2018), Loving Vincent (2017), My Life as a Courgette (2016), Song of the Sea (2015), and The Art of Happiness (2014).
The pre-selection committee was made up of Antonio Saura, EFA board deputy chairman; Graziella Bildesheim, EFA board member; Paul Young, producer at Cartoon Saloon; Stéphane Dreyfus, film critic (and Cartoon Brew contributor); producer Kristine M. I. Knudsen; and director Janno Põldma.
Alex Dudok de Wit contributed to this report.